A suitable partner for sensitive mouths
Finding a suitable bit is not an easy task, however it becomes an even more delicate one if you have a horse with a sensitive mouth. At TRUST, we have received many questions of riders that were searching an appropriate bit for horses with a sensitive mouth. At the time, we only had our Sweet Iron bits and we were unable to help every combination. Innovation is number one priority at TRUST and in cooperation with a number of riders we focused on finding new and softer materials. After many tests, we added the Inno Sense flexi bit to our production first.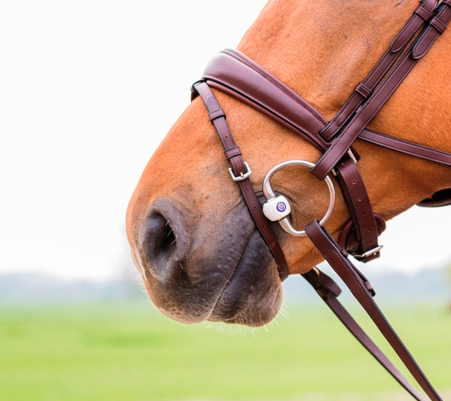 Soft materials
The synthetic material is FDA approved, which means the material is not toxic and does not contain plasticisers. Moreover, the bits are solid thanks to the use of a flexible centre of stainless steel. The TRUST Inno Sense Flexi bit is only available in a thickness of 20mm. The bit runs smaller to the middle, making the part that rests on the tongue narrower. The bit is situated nicely on the layers and leaves enough room in the horse's mouth.
TRUST Inno Sense Flexi
The bit can be used for all types of horses, but is especially a suitable fit for young horses and horses with a sensitive mouth. As is confirmed by Dutch Grand Prix rider Stephanie Kooijman: "One of my horses did not accept a single bit until I tried the TRUST Inno Sense Flexi. She feels so much better on this bit! ", says Stephanie. Stephanie uses this bit primarily amongst young horses. She thinks the bit lets young horses get acquainted with the pressure in their mouth in a nice manner. Stephanie: "I think the bit is less suitable for horses that are strong or have the tendency to lean on the bit. For those horses, you could use the mullen version of the Inno Sense line, these bits are made of a harder material."
The Dutch Young Rider Febe van Zwambagt also tested the Inno Sense flexi bit. "The flexi bit came just in time, as I am riding a horse that is sensitive to metal bits. The horse became restless in the contact and it became more and more difficult to get to the riding. He accepts the flexi bit very well, which greatly improved the contact. I feel that I am riding a happy athlete again."